Competencies for Leadership in the Future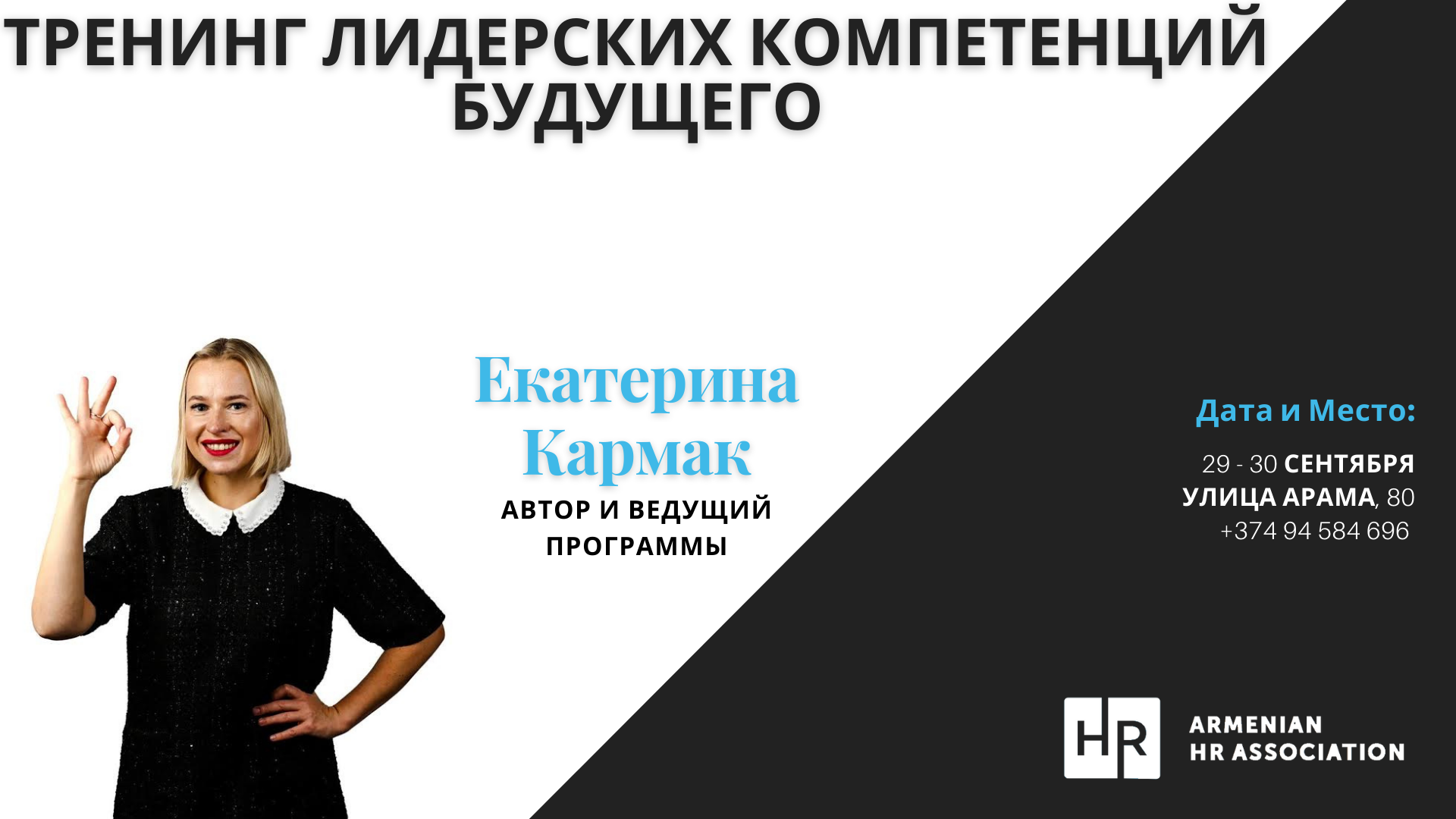 September 29, 2021 - September 30, 2021
16:00 to 20:00
Aram str. 80, 0002 Yerevan
+37494584696
What are the main leadership qualities essential for a leader?
"Competencies for Leadership in the Future" training will help you find the answers to this and many other questions in the field of leadership.
In this programme:
Module 1. The personality of a leader
Values ​​and mission of the leader
 Leader's concepts and trends
Key competencies of the leader
Creative thinking
Working with energy
Personal effectiveness
Module 2. Leader of change
Change Management
Working with human resources through hypotheses
Conflict Management
Module 3. Leadership culture
Management 3.0.
Network connections in the company and their impact on productivity
Effective communications
Module 4. Engaging Leader
Fundamentals of Team Coaching
 Building trust in the team
How to become a leader who strengthens and inspires the team
Languages ​​of gratitude to employees
How to manage different generations of employees
Module 5. Facilitating Leader
Facilitation skills that a leader needs
How to conduct effective meetings
Working with a remote team
Strategic sessions, retrospective
As a result of this program, you will:
✅ Develop leadership competencies
✅ Learn to work with more than 30 leadership tools
✅ Learn to guide employees through changes and transformations within the company
✅ Learn the ways to increase the potential of employees
✅ Develop a strategy for building a leadership culture for your team
The author and host of the program is Ekaterina Karmak – an internationally certified business consultant and facilitator.
Ekaterina Karmak is a member of the International Association of Facilitators and Change Management Professionals (ACMP). She began her work experience in 2001 (500+ projects, 300+ trainings).
Category of trainees: HR directors, HR partners, HR specialists, employees of internal communications departments, heads of companies.
The master class will be held in Russian.
The participation fee is 59.000 AMD.
Armenian HR Association "1, 2 & 3 Star" members get special discounts:
"1 Star" – 5% discount
"2 Star" – 10% discount
"3 Star" – 15% discount