Charisma and Personal Magnetism: Inherited or Acquired skill-set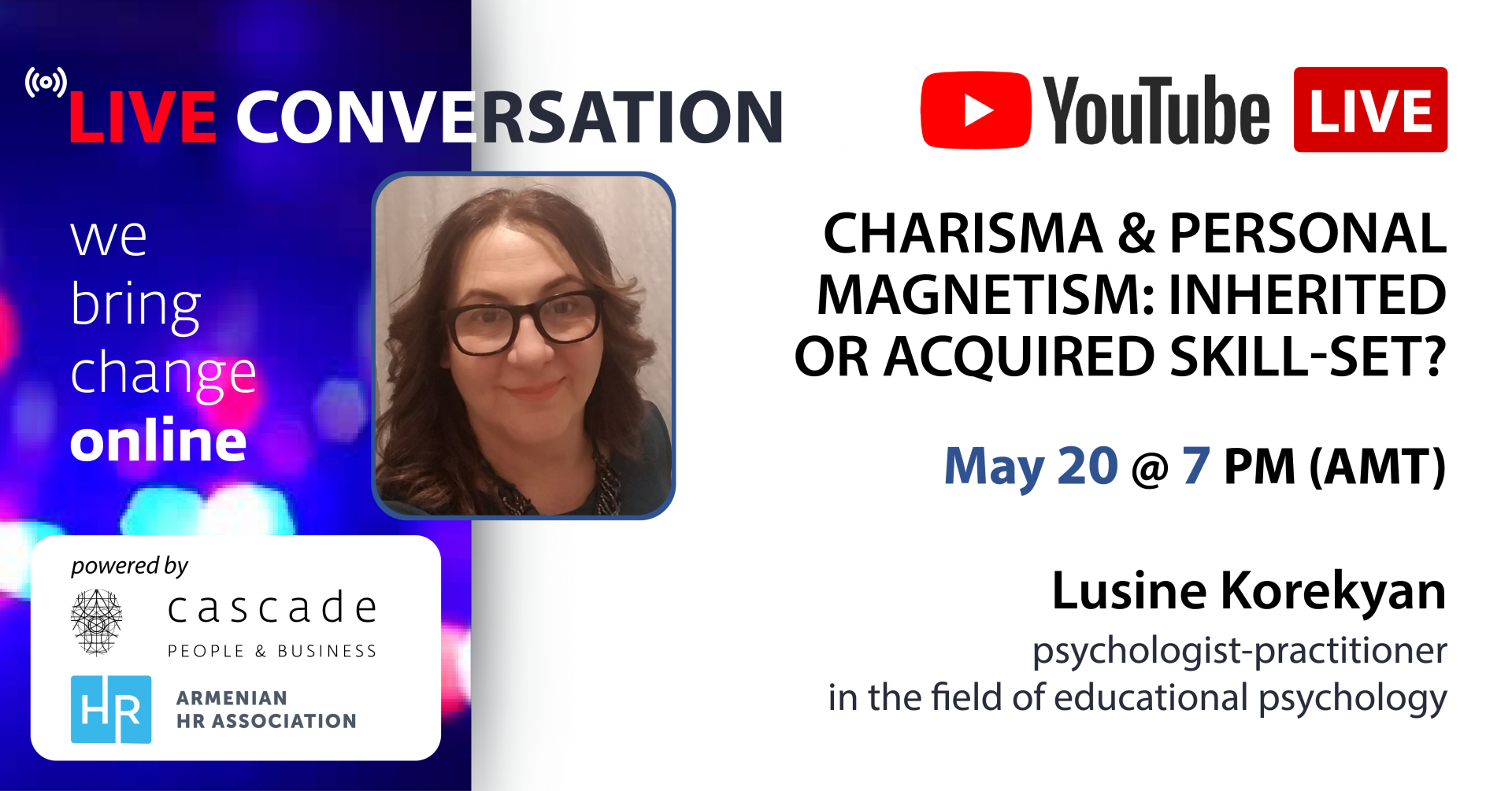 May 20, 2020
19:00 to 20:00
Conversation
+37477799629
Have you ever wanted to be that charismatic person, who from the very first moment of entering the room attracts everyone, who carries him/herself with confidence and has a positive attitude? Well, you're not alone.
All of us have a little desire deep inside us to be charismatic. We all want to be liked and accepted. It's human nature, and there's nothing wrong about it.
Here we have a FREE LIVE Conversation on the topic of Charisma and Personal Magnetism: Inherited or Acquired skill-set.
THE HOST: Lusine Korekyan, psychologist-practitioner.
In this Webinar, we will present the concept of charisma with the help of science and practical psychology that have taken charisma apart figured it out, and turned it into an applied science.
The knowledge and skills it imparts can be useful for everyone in a variety of situations.
The Conversation will benefit those:
◾ In leadership positions in private and public sectors by providing them with knowledge and skills they can directly apply to maximize the effectiveness of their influence and communication with others.
◾ Involved in sales, communications, teaching, and public speaking jobs requiring frequent interaction with others.
◾ Who wish to learn How Anyone Can Master the Art and Science of Personal Magnetism.
Lusine Korekyan is a passionate psychologist-practitioner in the field of educational psychology with over 20 years of experience working in Armenia and abroad. Currently, she divides her time between private practice in psychotherapy, training, consulting, and writing on various issues in practical psychology. In her capacity of counselor-psychologist at the European School of Armenia (ESA) she provides intensive supervision to over 200 pupils and offers advice and training on child development issues teachers and parents. As Director of the Armenian Foundation for Psychoanalysis and Psychotherapy Development (AFPPD) she also organized regular workshops and seminars for her peer colleagues and professionals. In her private practice, she works with adults, adolescents and children, offering psychotherapy based on traditional approaches in psychoanalysis, and other evidence-based treatments. She has had the privilege of witnessing dramatic transformations in clients addressing a wide range of emotional and behavioral problems including stress, anxiety, personality disorders, depression, suicidal ideation, and addiction. She assisted clients with adjustment difficulties associated with close relationships. Lusine Korekyan is eager to apply her experience and compassion with clients as they begin to address issues that will help them to improve their quality of life and attain a sense of fulfillment. Ms. Korekyan is a member of the Armenian Psychoanalytic Association(ArPA). Apart from Armenia, Lusine Korekyan worked for 12 years in various educational institutions in Dubai, UAE, including some specialized in children with special needs.
#StayHome, #StayTuned
Technical Details:
Date: May 20
Time: 7:00 pm (AMT)
Duration – 1 hour
Registration is open to PUBLIC and is FREE of charge