CSR programs. The need and the significance (City of Smile and My forest Armenia)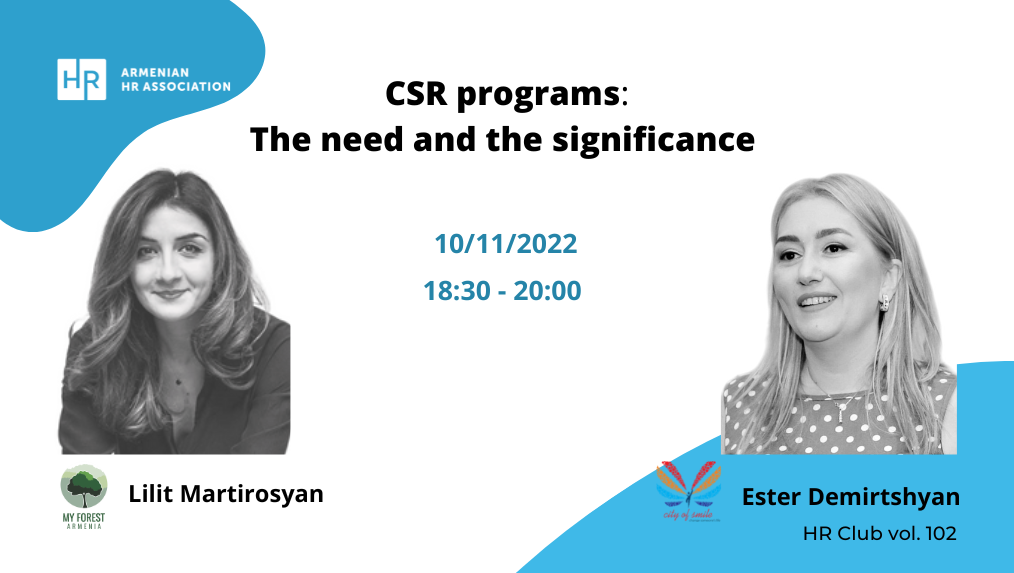 November 10, 2022
18:30 to 20:00
80 Arami str., 3rd floor, Yerevan
+37433584696
The CSR (Corporate Social Responsibility) model, which is very popular worldwide, has gained much recognition also in Armenia. Many employers want to initiate or join similar programs and face various queries, such as how to choose the program, encourage employees, etc. During this meeting, we will discuss the issues related to the employer's promotion of charitable activity among employees on the example of two existing programs.
We present to your attention two CSR programs, which will be described directly by the representatives of the author organizations. 
1. Speaker: Esther Demirchyan
Executive director of "City of Smile" charitable foundation
"City of Smile" Foundation supports children and young people with cancer, fully covering their treatment costs in RA.
2. Speaker: Lilit Martirosyan
Deputy director of "My Forest Armenia" environmental non-governmental organization
The goal of "My Forest Armenia" organization is to restore the forests of Armenia by planting and maintaining a large number of trees annually while also ensuring the employment of the region's residents.
Entry is free for "1, 2, 3 Stars" members of the HR Association.
The participation fee for non-members is 8,000AMD.
Register below.