Landing theory on practice: tools of motivation (on the example of IT)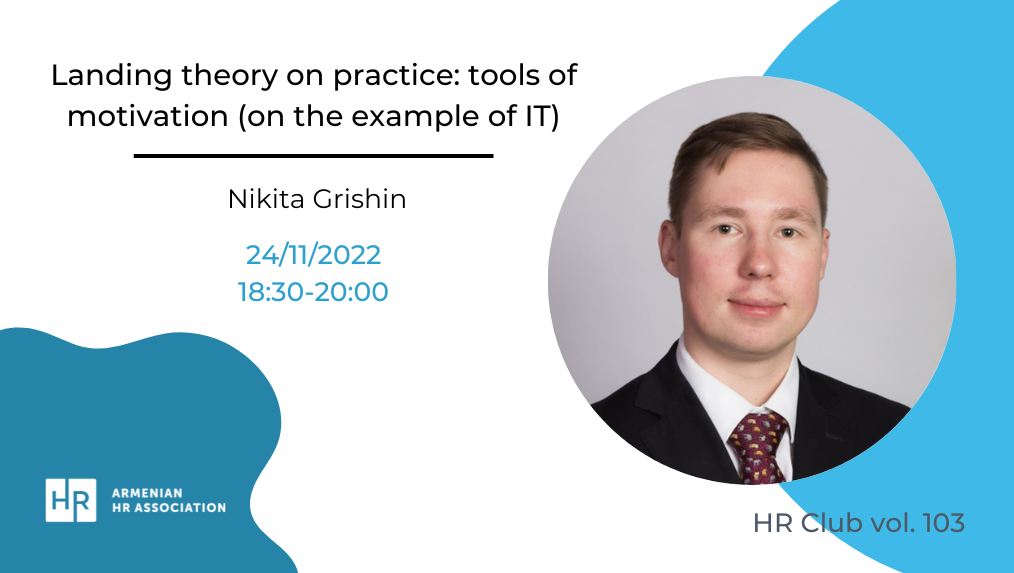 November 24, 2022
18:30 to 20:00
80 Arami str., 3rd floor, Yerevan
+37433584696
📢 In many companies outside of IT, the IT function is becoming, if not the primary factor, then at least a competitive advantage and often a critical function. At the same time, the motivation of IT employees can be very different from other functions that HR professionals are used to working with. 
😊 Motivation is the urge to act and the underlying reason for the person's acts. And money has (almost) nothing to do with it. However, it is essential to understand that the salary must be competitive: motivation is not about below-market pay and offering "cookies in the office and a friendly team" as an alternative.
👉 What topics will we discuss?
🔹 C&B terminology for discussing motivational systems,
🔹 market trends and practices, what attracts and motivates IT professionals,
🔹 the fixed and variable parts ratio, project motivation for Waterfall and Agile projects, and reward long-term programs (LTIp).
👨‍🏫 The master class will be conducted by Nikita Grishin, Head of C&B at P2P.org and Head of C&B at LANIT. At P2P.org, he is responsible for Total Reward, the development and implementation of the LTI program, and the compensation market analysis in the CIS, Europe, and West Asia regions. At LANIT, Nikita is responsible for grading projects, total remuneration market analysis, and research.
👉 The master class will be helpful for.
🔹 C&B specialists and experts,
🔹 recruitment, C&B and T&D managers,
🔹 HR business partners.
📌 Working language: Russian
Entry is free for "1, 2, 3 Stars" members of the HR Association.
The participation fee for non-members is 8,000AMD.