LIVE TALKS: The value of SHRM as a Professional Qualification and a Global Employment Passport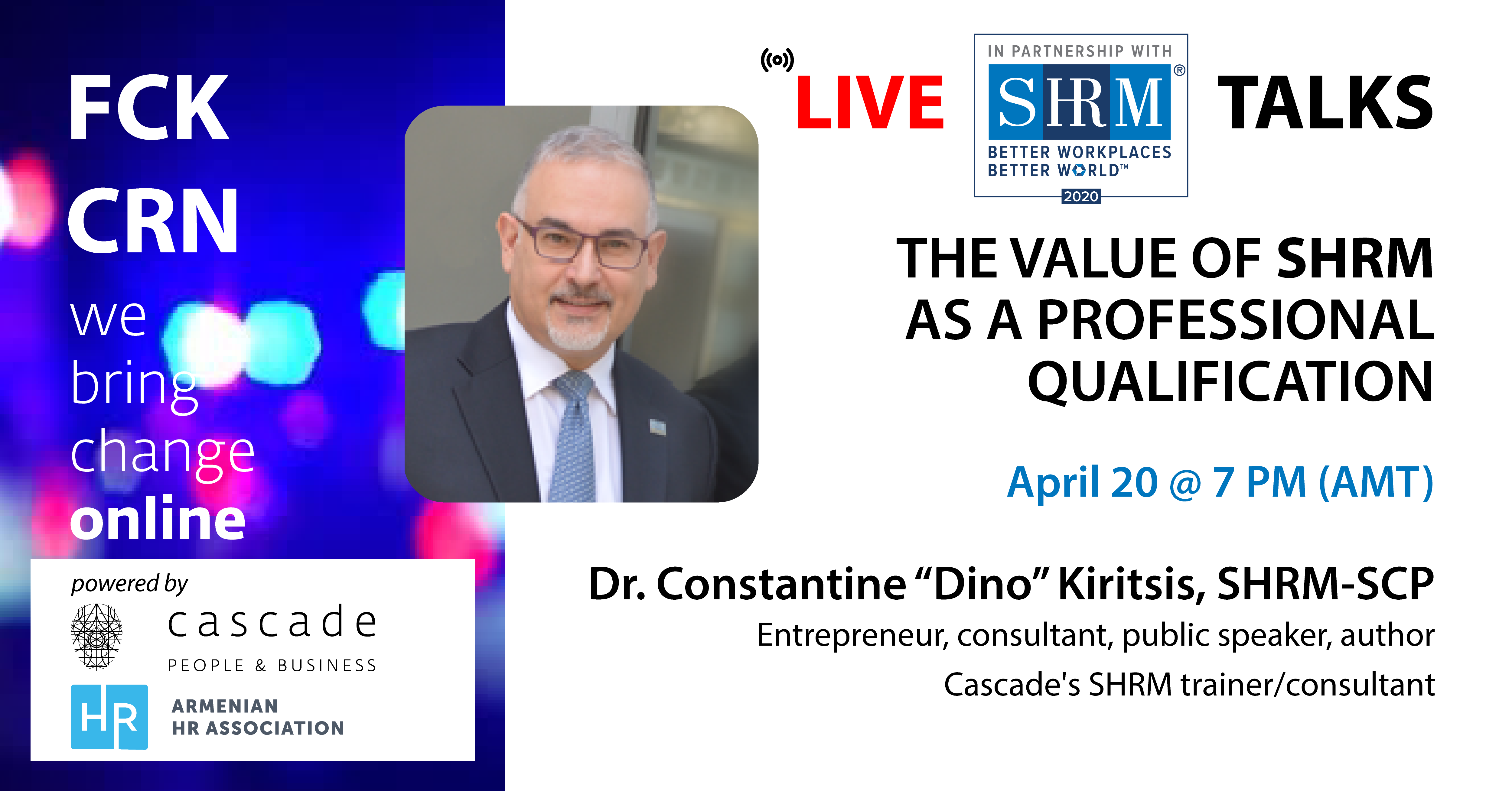 April 20, 2020
19:00 to 20:00
Still need more information and answers on SHRM certification? Join our Digital webinar session.
The topic: The value of SHRM as a Professional Qualification and a Global Employment Passport
The Host: Dr. Constantine "Dino" Kiritsis, SHRM-SCP, Cascade's SHRM trainer/consultant
At Cascade, we recognize the challenging times our world is going through. Let's make this time productive through being with our loved ones, educate ourselves, learn, discuss and plan for the future. We do not know when this crisis will end, but it will end and we all need to be ready, smarter, wiser and better prepared.
Now is the time to explore educational options to strengthen your careers and certify yourself, in Human Resources, by opting for the SHRM-CP or SHRM-SCP professional qualification.
Sample questions that will be addressed and commented: 
What is the difference between Academic degrees & Professional Qualifications?

What is the value of SHRM globally – Key stats & figures?

What is the value compared to other HR related options?

How can I get certified? Details on the content and study system
The Format: There will be a 20-25 min presentation of the topic and then a Q&A period (based on questions sent to: [email protected] prior to the session or during)
All registered participants will receive a PDF copy of Dr. Constantine Kiritsis' book "Are you serious?" 
Dr. Constantine (Dino) Kiritsis – Entrepreneur, consultant, public speaker, author – founder of StudySmart & Award Winning International Curriculum Development Expert consultant for PwC. He is a world-class inspirational professional who has delivered over 20,000 hours of professional qualifications and corporate training in the past 20 years in over 45 countries globally. 
Dino has developed the curriculum, methodology and mapping procedure for PwC's Mini MBA programme being offered globally by PwC Academies. ACCA has named him in 2017 as a 'tutor guru' to help in rolling out its Strategic Business Leader (SBL) exam and has licensed his innovative interactive flowchart as a resource for candidates. His knowledge areas span from Business Mapping, business analysis, Governance, Ethics, Entrepreneurship, Strategy and Corporate level training to developing programmes, career management and education, Professional qualifications (PQs) and teaching topics such as Corporate Strategy, Entrepreneurship, Business Planning, Marketing and HR (for specialist qualifications (ACCA, CIA, CIMA, SHRM, ICA) and Universities (for the University of Surrey (UK), University of Strathclyde (UK), Henley Management School (UK), University of Nicosia (CY) and PwC Academies in Europe and the Middle East. He set up the Greek operation of Globaltraining in 1999 and served as the Executive Director (1999-2008) and Shareholder (until 2013) and also led PwC Academy in Greece as Head (2008-2010). Constantine has also been involved in a number of consulting & training projects for over 100 well – known multinational firms. 
He holds a Bachelor's degree from the University of Connecticut (USA), a Masters and a PhD from the University of Surrey (UK), a Diploma in Corporate Governance from the ACCA (Association of Chartered Certified Accountants) is a Fellow RSA UK, an Associate Member of the International Compliance Association UK AICA), and a Senior Certified Professional from the Society of Human Resource Management (SHRM – SCP) USA.
 #StayHome, #StayTuned
Technical Details:
Date: April 20
Time: 7:00 pm (AMT)
Duration – 1 hour
Registration is open to PUBLIC and is FREE of charge