7th Annual Regional HR Conference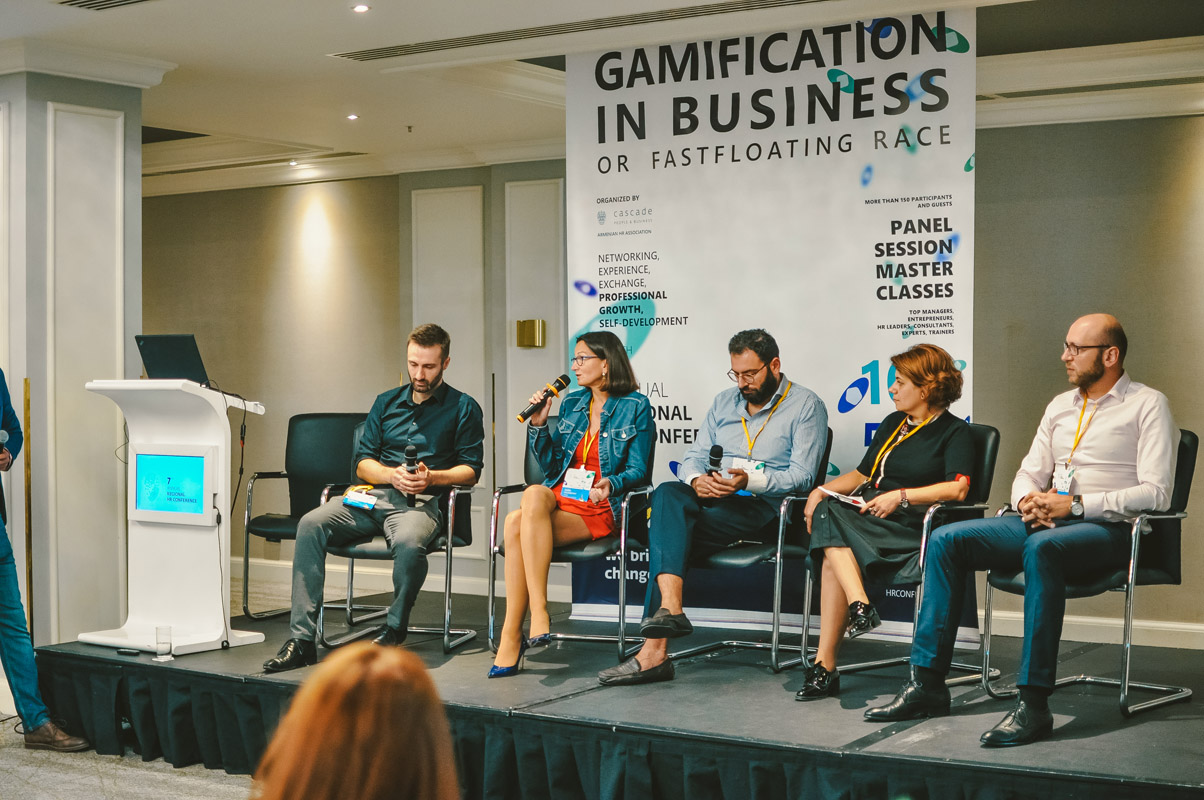 September 28, 2018
10:00 to 17:46
Gamification in Business or Fast Floating Race
The 7th Regional HR Conference organized with the joint efforts of Cascade People & Business and the Armenian HR Association and entitled "Gamification in Business or Fast Floating Race" has launched. As always, this year as well, the conference convened on a variety of topics reflecting the most critical and essential issues of the industry.
Around 200 participants from more than 15 countries had applied for the most anticipated annual event in the sector. The stakeholders included HR managers, executive directors, trainers, consultants, and other beneficiaries from around 60 local and international organizations.
This year the conference hosted 25 internationally acclaimed speakers from Armenia, Russia, Georgia, Kyrgyzstan, Kazakhstan, United States, Austria, Germany, Philippines, and Poland. During the two-day conference, they delivered speeches and master classes.
"The regional conference gives an excellent platform to participants for sharing their experience. The title of each year's conference is selected based on previous year's surveys. This year's conference is fully dedicated to games and game solutions in the business. We speak about game solutions in our profession – in recruitment, group work, workplace, learning process, motivation system, etc. We have gorgeous speakers and a very exciting program," said Arpi Karapetyan, founder and CEO of Cascade People & Business, President of the HR Association of Armenia.
"Human resources play crucial role. They bridge companies with employees and with society, where traffic has more than one direction. The human resources have to have flexible approaches and shall provide development of both a company's staff and encourage each and every one's engagement in the work to help promote competitive advantages of a company and become a leader in setting system of values," VivaCell-MTS General Manager Ralph Yirikian said.
"It's already the second time that Private Sector Development and TVET South Caucasus Programme implemented by GIZ has been contributing to Regional HR Conference, as part of its human capacity development measures. The topic of this year's conference – Gamification in Business – is very important and relevant for us. Acting on behalf of the German government, one of our goals is to support introduction of innovative digital solutions particularly in the private sector to ensure sustainability and competitiveness of the sector in Armenia. We believe this conference bringing together the local and regional expertise will mark a new milestone in this direction," said Wilhelm Hugo, GIZ PSD TVET Team Leader Armenia.
During the conference the "Teamification" application was introduced. The app is based on new technologies and has been developed and implemented by the joint efforts of the M. In. D. startup and Cascade People & Business.
The opening ceremony and interviews can be found by the following link: https://youtu.be/J0T2IGuu8MI .
The master classes conducted during the conference can be found by the following links:
Cascade People & Business is a leading Human Resource Management consulting company in Armenia, acting under the principle of "Everything in the HR field and nothing beyond HR." Over the course of 10 years of its operations with more than 500 local and international organizations, the company brings changes and strives for perfection by acting as a benchmark for the day-to-day growing and developing HR community.
Starting from 2008 and up to now, The Armenian HR Association has more than 60 members from more than 40 organizations that aims to bring together leading HR professionals through HR advocacy, Professional Development, HR Club Meetings and Improvement of HRM framework.
The general partners of the conference are VivaCell-MTS, Representative Office of Microsoft in Armenia, and Reebok Sports Club. The conference was supported also by HSBC Bank Armenia, Private Sector Development and Technical Vocational Education and Training South Caucasus (PSD TVET) Programme, implemented by GIZ on behalf of the German government,  PicsArt, Hatiq Printing Company, Skill.am, and Armenia Wine Factory.