WOW!HR business-award 2019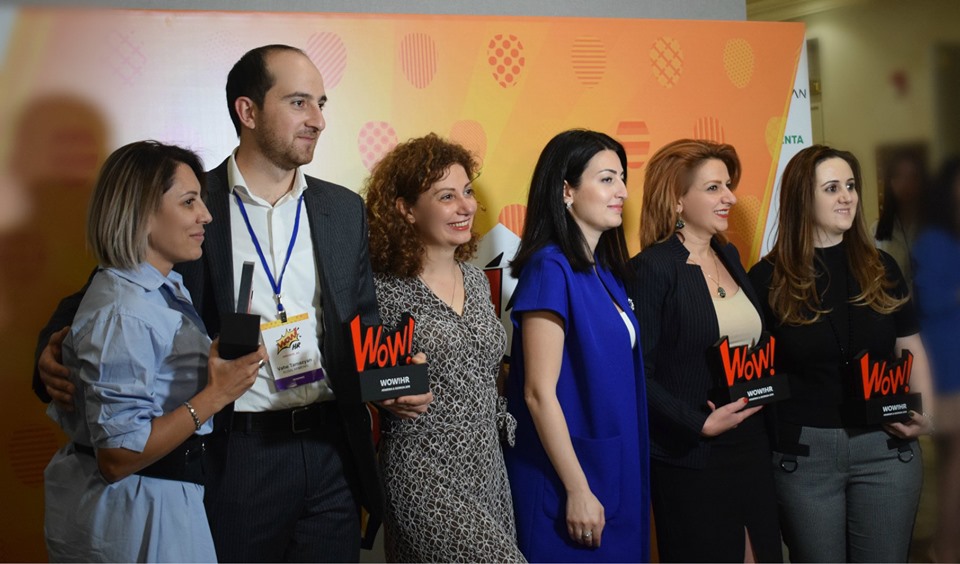 May 20, 2019
09:00 to 20:00
The event in Armenia was organized by the joint efforts of HR-tv.ru, Cascade People & Business (www.cascade.am), and Armenian HR Association.
The main goal of WOW!HR Armenia is to consolidate and popularize the best practices implemented and applied in the field of human resource management (HRM), to create interconnected business environments, to promote employer brand, and to share experiences. Throughout the business-award, the best practices of local and international markets and global HR trends were discussed and presented within the framework of 4 nominations: DIGITAL SOLUTIONS, SAVE, WORKPLACE and LEVEL UP.
DIGITAL SOLUTIONS – any HR Digital-project and IT-instrument that contributes to the development of the business can participate in the nomination.
SAVE – the theme of the nomination is the life and health of the employees. Well-being projects, projects on the improvement of the working conditions, projects reflecting the company's activities aimed at the welfare of the employees are accepted.
WORKPLACE – the project should give an insight into the impact of the design and office functionality on working and business processes.
LEVEL UP – in this nomination participate projects on training and motivating employees of the company.
The nominees of LEVEL UP nomination were "Coca-Cola HBC Armenia", "Phillip Morris Armenia", "The Crowfanding Formula", "Radisson Blu Hotel Yerevan", "Yerevan City supermarkets chain", and "MENU.AM". As a result of the nominee and audience voting, the winner of this nomination was The Crowdfunding Formula with its "Know How meetings" project.
In the SAVE nomination the companies "Rusal Armenal", "ContourGlobal Hydro Cascade", and "Yell Extreme Park" were nominated. Rusal Armenal's "Look around" project was recognized as the winner of the nomination.
The nominees of WORKPLACE nomination were "Ameriabank", "SoftConstruct", and Globbing. Ameriabank's "Ameria City" Project was recognized as the winner in this nomination.
In the DIGITAL SOLUTIONS nomination the companies  "Ucom", "Workfront Armenia", and "Benivo" companies were nominated. The winner of this nomination was Workfront Armenia with its "Workfront @ Workfront" project.
Public Television Company of Armenia (H1) was the General Information Partner of WOW!HR business award. The partner of LEVEL UP nomination was "Nairi Insurance" Insurance company. The supporters of the business award were Armenia Wine, AVANTA Innovative medical Center, KinoPark, Sarajyan Trainings, skill.am, and Anemon Salon.