Armenian HR Association's 7th anniversary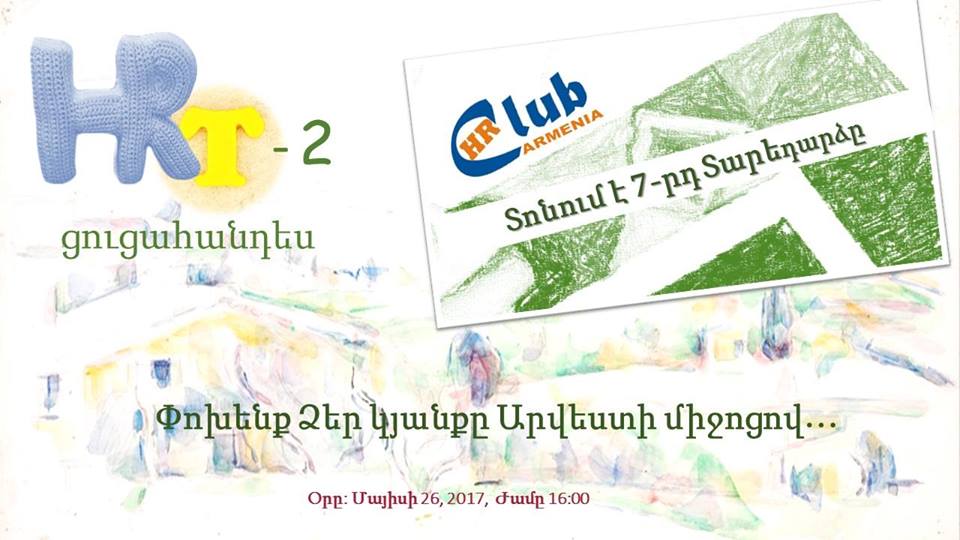 May 26, 2017
16:00 to 21:00
On May 26th an exhibition with the headline "HRt" has been held in Aeon club. The headline itself talks about the content of the event. During it the members of the HR community and their children presented their works in various fields of culture. More than 50 paintings and other works of art exceptional for their deepness and uniqueness were introduced. The Armenian community of Human Resources managers proved once again that it loves to share its visions and aspirations, has many interests and multilaterally developed trends.
The idea of establishing an HR community dates back to 2008, when, within the scope of HR Club, meetings were organized for HR specialists to come together and discuss essential issues concerning their field.
On May 19th of 2010 the Association acquired a status of a legal entity and is now in effect, in compliance with RA Constitution, current RA Legislation, international treaties and HR Association Code. Consequently, HR Club transformed into one of the Association's activities.
The Association currently includes around 40 members; the HR managers of Armenia based dynamic companies, who are engrossed in the realization of common objectives.
During the years of its existence the Association has had a serious impact in seizing and fixing the importance of the HR specialist in the business. With the efforts of the Association today the HR community has its code of ethics, is able to get the HRCI certification well-known in 120 countries, find a job, be active in the law field and grow constantly. The socialization of the HR sphere has always been and stays one of the main objectives of the Association.
"The HR community of Armenia is a singular platform for self-expression and inner development. This event gave us the opportunity to forget for several hours the routine working life filed with documents, correspondence, meetings and other professional activities. What is more pleasant is that many of our members have really interesting and unique works"- said Arpi Karapetyan, the president of Armenian HR Association.
Let's also mention that the exhibition was officially included in the list of participants of the "Museum night" events and during the whole next day the works of art of HR specialists of Armenia and their children were open to be admired by the public.