War veterans at work: discussion with a psychologist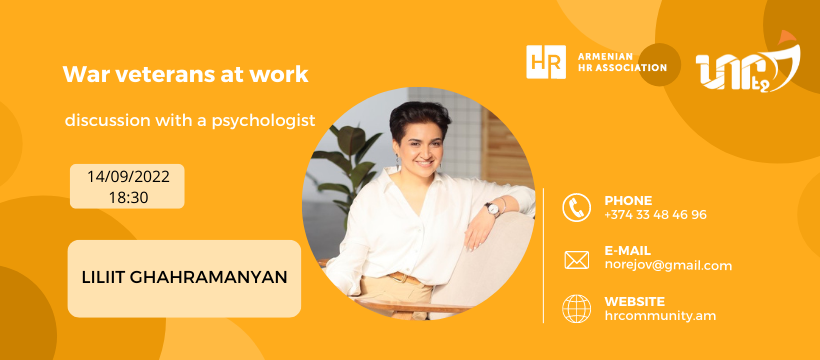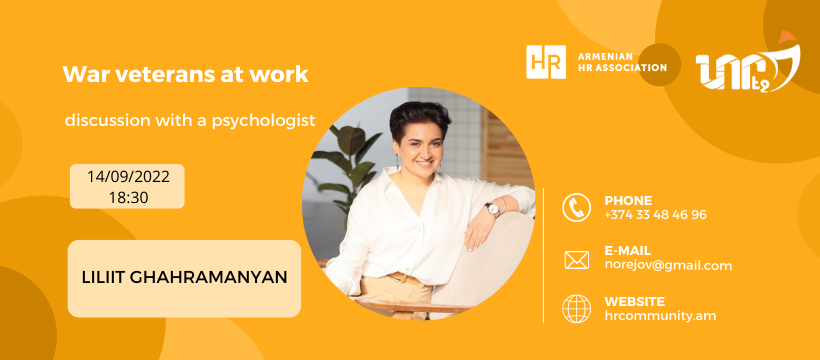 September 20, 2022
18:30 to 20:30
Aram 80 str.
+37433584696
Update on the "War veterans at work" meeting.
Taking into account the tense situation created at the RA state borders and the feelings of all of us, we consider it necessary to postpone the HR Club scheduled for tomorrow, September 14.
According to preliminary data, the meeting will take place on September 20 at 18:30.
We ask for your forgiveness.
Surely, we will contact you in case of additional information.
We cordially invite you to the meeting on the topic of "War veterans at work" on September 20 at 18:30.
This meeting is the 100th HR Club of the HR Association, the topic of which was chosen considering the experience of the "New Page" CSR project and the concerns and suggestions of partners.
During the meeting, psychologist Lilit Ghahramanyan will present:
War trauma and its consequences,
Post-traumatic stress syndrome. How do you recognize and how react?
Lilit has more than ten years of professional practical work experience; since 2020, she has worked as a clinical psychologist at the "Homeland Defender's Rehabilitation Center."
Entry is free, but our donation box will be waiting for you.
Address: Arami 80, 3rd floor (HR Association).
Tel. 033484696, 098584696
Best regards,
Armenian HR Association