LIVE CONVERSATION: Living with myself in the Times of Lockdown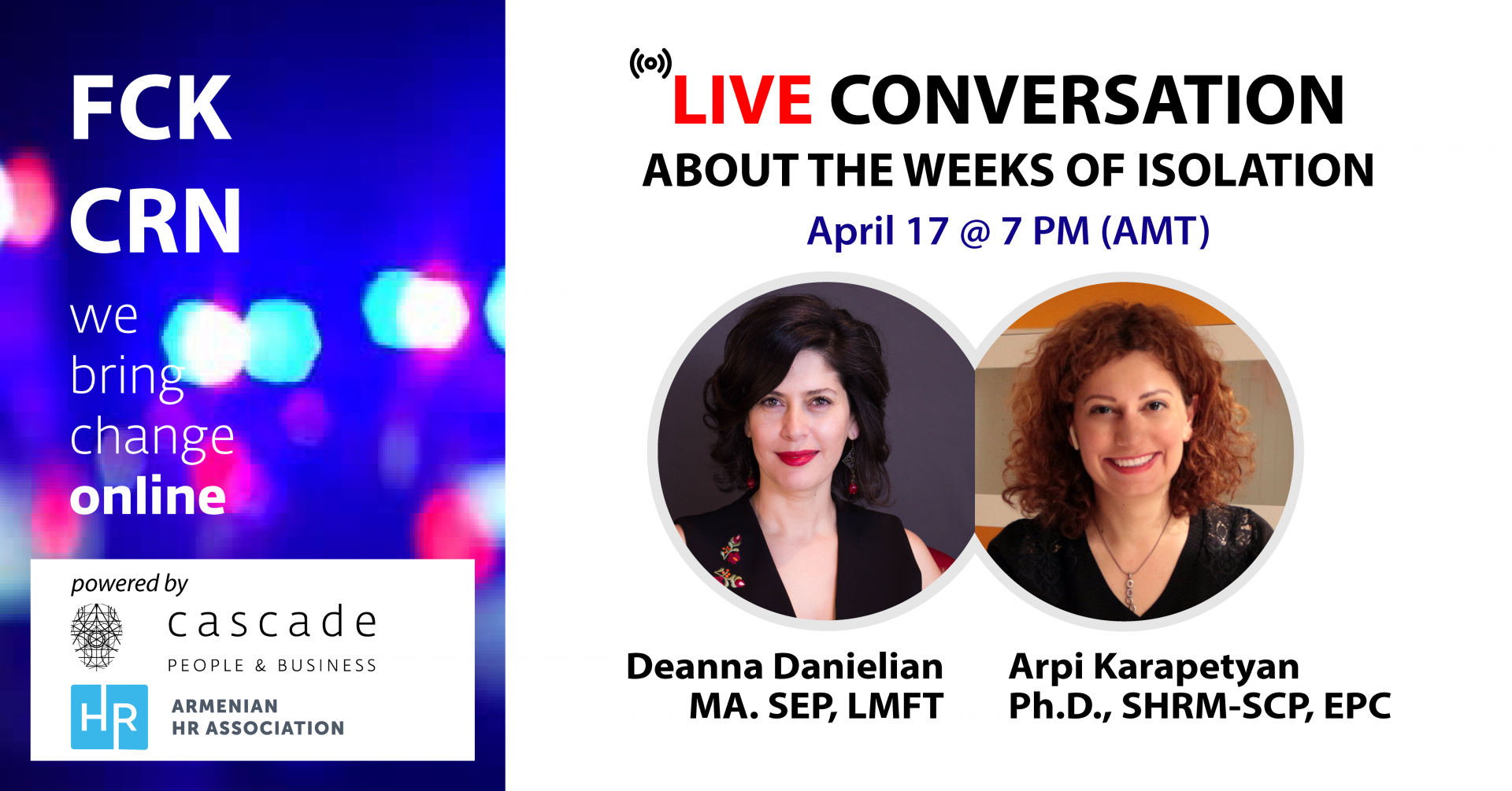 Ապրիլի 17, 2020
19:00 - 20:00
Conversation
+37477799629
It's time to have a conversation about serious things in a friendly format?
The topic: LIVE CONVERSATION: "Living with myself in the Times of Lockdown"
The Hosts: Deanna Danielian and Arpi Karapetyan
Two friends, who have started their journey from the Psychology faculty together and experienced different challenges on their way in different countries.
The aspects to be touched:
How different our experiences of isolation are
How we interpret the inability to socialize
How we manage the time with ourselves and people living with us.
What happens when we slow down
What we have learned so far about our own self and collective self
Boundaries during the isolation
Deanna is a licensed Marriage and Family Therapist currently in private practice working with couples, individuals and families. Also, Trauma specialist and has extensive experience working with victims of sexual, physical abuse and other emotional traumatic experiences.
Graduate of Yerevan State University, she has a Master's Degree in Psychology from NYU and another Master's from Kean University where she obtains the License in Marriage and Family Therapy. Has been trained in different psychotherapy modalities including Somatic Experiencing in which the major focus is on the body sensations and body's wisdom to process different emotional experiences including trauma. Currently follows Gottman and Gottman, Esther Perel's and Sue Johnson's Relational models of work with couples.
Arpi (www.arpikarapetyan.com) is the Founder and General Manager of Cascade People & Business (www.cascade.am). Besides, she is the Founder & Chairman of Armenian HR Association (www.hrcommunity.am) and the Initiator of Regional HR Conference (www.hrconference.biz). She is an Internationally Certified HR Professional (SPHRi, SHRM-SCP), Internationally Certified Coach (EPC), trainer, and consultant. Arpi has a Ph.D. in Social Psychology with over 20-years of experience in Human Resources Management, 10-years of experience in Human Resources Consulting, Personal Training and HR Community Development, 5-years of experience in Personal and Group Coaching.
#StayHome, #StayTuned
Technical Details:
Date: April 17
Time: 7:00 pm (AMT)
Duration – 1 hour
Registration is open to PUBLIC and is FREE of charge